Metal Deck Installation

Metal Deck Installation
Metal Deck
We can use metal deck installation in various commercial and industrial applications for the activities like flooring, roofing and also for the creation of forms for concrete. Metal decks can be installed in high rises, airports, schools, hospitals, casinos and high tech offices. The metal deck should be installed using field installation drawings that incorporate project requirements. Steel roof and floor decking, acoustical metal decking, aluminium floor decking can be included in metal decking. By welding and powder actuated pins, we can fasten metal decks to support steel members. The composite metal deck is also fastened at shear stud locations and the side laps for metal deck are fastened with screws.
We know that the profile of metal decking is usually ribbed or corrugated profile performed using a process called roll forming. Large sheets of metal are pulled off of rolls and led through rolling dies to create the ribbed profile of metal deck. 
The type of metal decking which we can use as flooring and can provide additional stability to a structural frame is Steel Decking. It is an economical and easy to install option for the builders. A narrower rib pattern must be created to increase the strength and support roofing materials when steel decking is used as roof decking.
Concrete and Reinforcement on Metal Deck Installation
We can save time and expense by using the systems of reinforced concrete slabs on steel decks. The die-set ends provide neat fitting and laps and the whole deck is water-resistant to minimize concrete leakage and prevent moisture loss from the bottom surface. There are varieties of design available by manufactures which makes it possible to meet any specification by selecting the proper combination of decking, concrete and reinforcement. And depending on the strength needed, the building framing design, ceiling surface desired and what utility provisions are needed, we can select any of a variety of designs.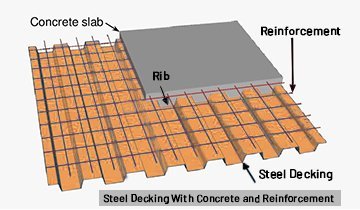 We should construct floors and roofs in such a way that it should be fire resistive. We can provide fire resistance for steel deck reinforcement concrete in various ways. The manufactures should also provide information to reduce sound transmission. 
We should install and cover the steel deck as soon as it arrives on the job-site inorder to protect it during long periods of exposure. The decking sheets are usually lapped two inches at the ends and the laps are placed over support beams. The sides of the panels are interlocking which are joined mechanically or by on-site tack welding.
Welding method is used to attach the deck to support the beams. There are various pieces of hardware supplied by manufacturers for fastening and hanging decking. Some of the accessories available are screw-type side-lap fasteners, non piercing hanger tabs and piercing hanger tabs. We should take proper care during the placement of concrete in order to avoid over-loading the decking or supporting structural members. Only after checking the structural members and decking for load capacity, we can place heavy transporting equipment, bundles of steel deck or any other construction loads on the roof.
In this way metal deck installation can be done. For more details, please visit Rebar People to avail our services and clarify your rebar related queries. You can contact us by phone and email.