5 types of Rebar Cutter Used in Construction


5 types of Rebar Cutter Used in Construction
A rebar cutter is used in the construction industry to cut rebars for building structural reinforcement for concrete work. It is very difficult to cut thick rebar so it requires specialized tools that can make the process safer and easier. The correct cutter should be used among the specialized tools that suit your project requirement. There are various types of rebar cutters like electric, battery-powered, dual-power and manual.
Rebar Cutter is a machine widely used in building and construction to cut bars made of steel and other heavy metals. There are different types of cutter which are different from each other in design and engineering, strength, technology and use. Apart from cutting steel bars, the different machines also provide unique functions and capabilities on the basis of the task that is needed to perform.
The different types of rebar cutters applied in the construction industry are as follows:
1. Manual Rebar Cutter
Manual Rebar Cutter is a hand held tool which is used in construction to cut rebar upto 19mm diameter. It may not give precise results if we cut rebar manually which may cause huge loss in the materials. Manual Rebar Cutters produce sparks or flames while cutting rebars.
2.Electric Rebar Cutter
This type of cutter is one of the most common types of cutter used in the construction industry. Electric rebar cutter contains superior quality hydraulics which increases the efficiency and safety on the construction site. These cutters are durable which provides a precise and speedy cut. They are electrically charged and can cut rebars having diameters up to 16 mm diameters. They are also available having cutting capacities to cut rebar from 16 to 32 mm diameter. Electric cutters do not produce sparks or flames while cutting rebars. A good cutter should contain an industrial strength machine head and 110-120V or 220-240V electric motor. It is a cutting-edge equipment that can handle both vertical and horizontal rebar cutting.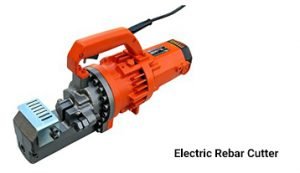 3.Two-in-one Rebar Cutter
Two-in-one Rebar Cutter is a type of cutter which can perform two tasks i.e. cut rebar and bend rebar. A good cutter should contain a single-phase 220-240V AC – 50Hz electric motor having 1150W power input for the cutter and 1050W power input for bender. It is very easy to transport and it has two devices in it which helps us to perform different tasks. The bender in this machine can perform a minimum bending of 6mm and maximum bending of 25mm including angles between zero to 180 degrees.
4.Battery-powered Rebar Cutter
Battery-powered Rebar Cutter is a type of cutter which is charged through battery to cut rebar. It is used in places when electric power is unavailable and we have to cut rebar during power outages. This type of cutter is also portable and easy to use.
5.Dual-power Rebar Cutter
Dual-power Rebar Cutter is a type of cutter which has the capacity to run with two different power sources. We can cut rebar by plugging it into an electrical outlet when there is availability of electricity and also cut rebar by running them on batteries when there is no electric power or difficult to provide electric power on the construction site. There are also some cutters that contain rechargeable lithium-ion batteries which can last for a longer time. There is no need to replace batteries at every discharge which saves money in the business.
These are the various types of cutter used in the construction field. As cutting rebar is a highly demanded job in the construction industry, we should use proper tools that can perform a risk-free and trouble-free operation. Using these equipment provides high-quality end results during the construction process.
For more details, please visit Rebar People to avail our services and clarify your rebar related queries. You can contact us by phone and email.